JASPER Driveline Division Ready for 2011 NASCAR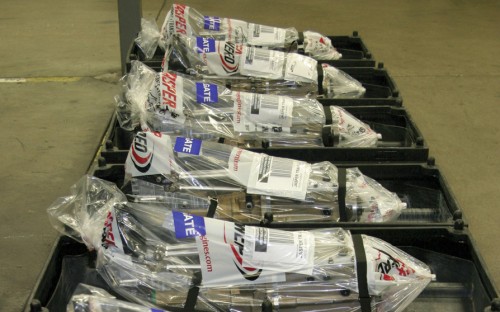 The 2011 racing season is almost here. The NASCAR Driveline Division of Jasper Engines & Transmissions looks to build upon the success of the 2010 season by building transmissions and rear end differentials for some of the top teams in NASCAR.
Joe Gibbs Racing drivers Denny Hamlin, Kyle Busch and Joey Logano drove in the NASCAR Sprint Cup Series in 2010 with cars equipped with a JASPER 4-Speed Transmission, as did Michael Waltrip Racing drivers David Reutimann, Martin Truex, Jr. and Marcos Ambrose. Penske Racing drivers Kurt Busch, Brad Kesolowski and Sam Hornish, Jr. raced cars equipped with a JASPER Rear End Differential.
"We came up just short of winning the 2010 NASCAR Sprint Cup Series Title with Denny Hamlin," says Terry DeKemper, JASPER NASCAR Driveline Manager. "Denny finished second in NASCAR Sprint Cup Series points, Kyle Busch was eighth."
NASCAR Sprint Cup Series teams using JASPER NASCAR Driveline products accounted for 15 wins in 2010 with nine pole starts, 60 top five and 108 top ten finishes. JASPER could be found in other NASCAR racing disciplines. Brad Kesolowski won the 2010 NASCAR Nationwide Series using a JASPER Differential. Ryan Truex won back-to-back NASCAR K & N East Division titles using a JASPER 4-Speed Transmission.
"We are leasing more transmissions this year and have some quotes out to some other teams," says DeKemper. "It looks like our division will be as busy, or busier, than last year."
In 2010, JASPER incorporated a single-rail version of its 4-Speed Race Transmission into its offerings. This style of gearbox allows a single external rail to rotate and move two internal forks to engage the four forward gears. This makes the transmission lighter in weight and allows for fewer parts outside of the case. "There is less chance of debris getting caught in external components," added DeKemper. "The bottom end of the transmission is the same as in previous years, so we know that's bulletproof."
__________
Thank you for choosing Mike Fink's Automotive Service Specialists in Woodbridge, VA. Since I opened the doors in 1989, the focus has always been on the customer and our team of ASE certified technicians make that easy to do. Take advantage of our local courtesy shuttle, free wifi in the lobby while you wait, and if you need it we can get you towed in.