72 Nova SS Receives New Life After Autocross Event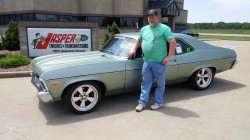 Ridetech, a well known Jasper-based high performance auto supplier, hosted a brand new street car event appropriately named Road Trip-Cars and Cones 2016. Around one hundred thirteen drivers registered for the event which featured four autocross events in five days with a scenic cruise route which wound through North Carolina, Tennessee and Kentucky, ending with a dinner and after party at Ridetech's facility here in Jasper, Indiana.
Chris Rhinehart, an event participant, from Frederick Maryland, experienced engine trouble near Bowling Green, Kentucky. Rather than have his Nova towed all the way back home, Chris decided to have it towed to the Ridetech facility and purchase a JASPER engine. Chris contacted Jasper Engines & Transmissions and spoke with veteran Authentic/Performance Sales Rep. Larry Salmon, who discussed Chris' options and arranged the delivery of a JASPER Class-1 Chevrolet 350 engine on Friday.
Saturday morning at 7AM, Chris and three of his buddies began the engine exchange and and by two o'clock in the afternoon the Nova was purring and as good as new. Chris ended his weekend on a happy note with a smooth 800 mile cruise back to Maryland. We would like to thank Chris for his engine purchase and hope he enjoys his JASPER-Powered Nova at many more autocross events!
JASPER 3 Year | 100,000 Mile Parts & Labor Nationwide Warranty Information: (Click Here)
__________
Thank you for choosing Mike Fink's Automotive Service Specialists in Woodbridge, VA. Since I opened the doors in 1989, the focus has always been on the customer and our team of ASE certified technicians make that easy to do. Take advantage of our local courtesy shuttle, free wifi in the lobby while you wait, and if you need it we can get you towed in.